Being a travel nurse is an exciting career. There are so many amazing benefits and plenty of new experiences and opportunities when you begin a travel nursing job.  And while it does require being away from home during a travel nursing assignment (typically 13-weeks), it doesn't have to be a lonely career at the hospital. Many nurses bring their pets with them during assignments. Some are even lucky to travel with friends or a significant other. For those nurses that are lucky to have the opportunity to travel with someone, discover how to have a successful assignment when travel nursing as a couple.
How to Do Travel Nursing As a Couple
Finding the ideal traveling nurse assignment for one person can already be difficult. Now imagine needing to find an opportunity that fits two people at the same health care facility. It's certainly possible but there are some tips you want to follow.
The first is to make sure you communicate your desire to travel with a significant other to your recruiting nursing agency. The sooner you are upfront with your travel nurse recruiter, the easier it will be to land that ideal assignment for the two of you at the same hospital.
The second tip is to make your pros and cons list together. You both might not get everything you want for the travel nurse assignment and you might not be able to be staffed at the exact same health care facility. It's best to remember to compromise. And if you take multiple assignments as a couple, perhaps one time you get more of your wants and the next assignment your partner gets more of what they want.
With the help of your travel nurse recruiter and your willingness to be flexible, it can be a great experience and trip for everyone involved.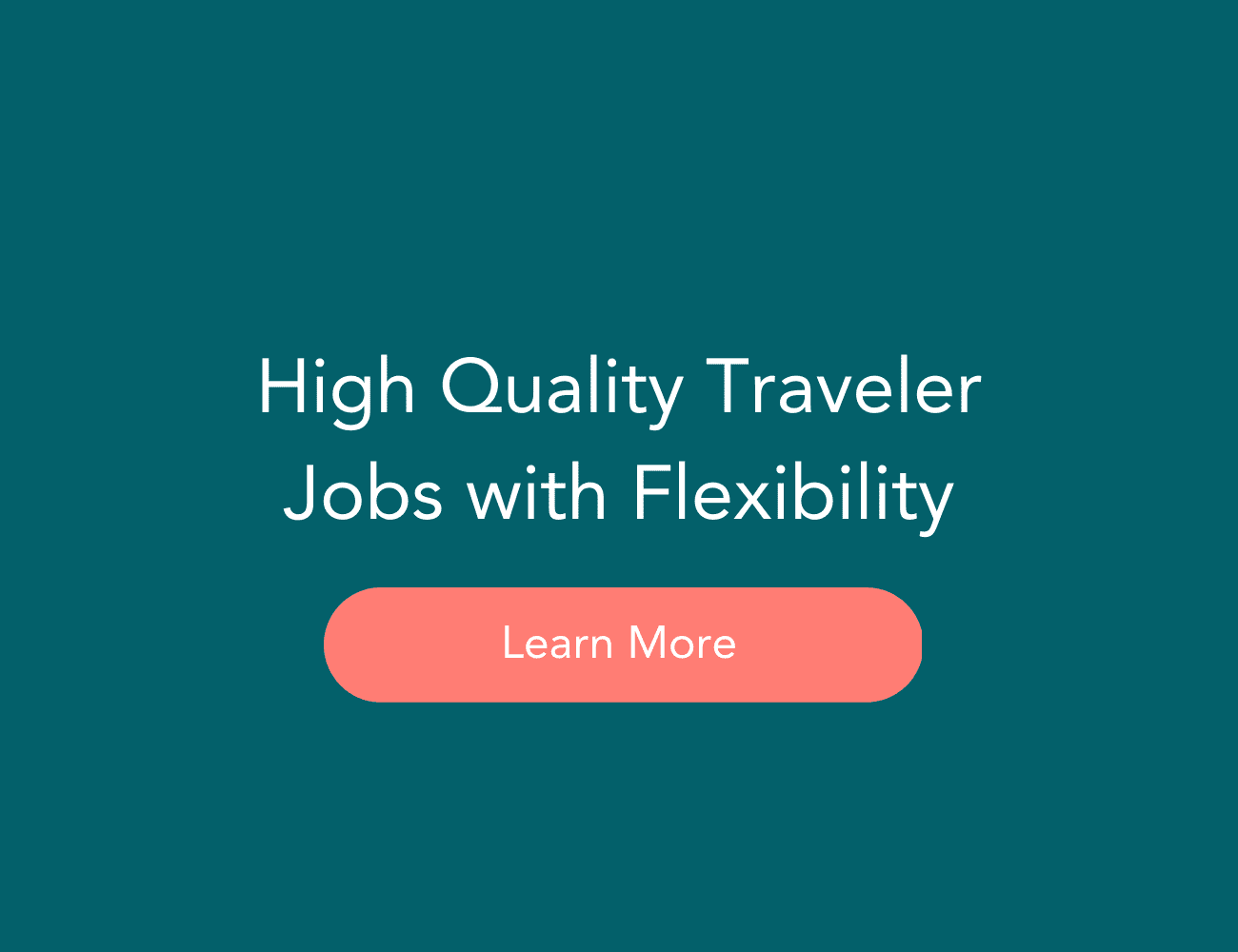 Benefits of Travel Nursing As A Couple
There are several advantages of going on a travel nurse assignment with a friend or a spouse. The biggest one is having someone with you to experience these new destinations and keep you company while you're away from home for months on end working at an unfamiliar medical facility. Being a travel nurse can be a lonely career so having a traveling partner with you can make the stay more enjoyable as you explore your new town.
Another benefit relates to your housing. Traveling with someone else means you could find a more enjoyable house for you and your partner. You could both accept the tax-free housing stipend for travel nurses that the GSA (Government Services Administration) offers,  and split the cost of rent. This is a popular option for travel nursing in pairs.
Housing can be tricky depending on the town city you are located in so despite the benefits, make sure you look at all options as soon as possible once your assignment is determined.
Tips For Travel Nursing As a Couple
If you and your significant other both happen to be nurses, doing a travel nursing assignment can be a great experience you share together. Below are a few tips to help any travel nursing couple find a great placement together. 
Be Open to Different Options
In a perfect world, the two of you would be able to get a job at the same hospital. However, with limited openings and high demands, sometimes the medical facility can only staff one of you. If this is the case, consider doing jobs in different hospitals but in the same area. 
Be Honest and Upfront With What You Want
When planning your nursing assignment with a recruiter, be upfront with them when discussing your plans. Let them know that you want to be placed in the same hospital or at least the same city as your partner. The sooner you are able to communicate this, the better chances you'll have in being sent to the same facility. 
Choose an Experienced Recruiter
Remember, the recruiter is on your side and wants to help you as much as they can. Your staffing agency will be the ones that can help pair you and your partner together for your desired travel nursing job. At Host Healthcare, we do everything in our power to find you the best assignments. If you have a special request like travel nursing with a family or with a partner, we will do our best to find the right option for you.
About Host Healthcare
Host Healthcare is an award-winning healthcare staffing company focusing on travel nursing jobs and travel allied. Our purpose is to make Host Healthcare a place with the highest employee engagement score in San Diego. A place where people are passionate about what they do and who they do it with. Our mission is to help our employees and travelers To Live Better.
Host Healthcare Travel Nurse
Host Healthcare offers an extensive list of travel nurse nursing jobs in a city of your choosing. Call one of our friendly recruiters at (800) 585-1299. We are here to help you to get started and learn more about the benefits and history of travel nursing.
Ready to learn more about the different travel nursing opportunities available to you as a nursing couple? For more information, call our staffing agency to talk to a Host Healthcare recruiter today.
Photo Credit: Leo McCarthy
A truly comfortable travel healthcare experience
Get Started