The COVID 19 pandemic is a serious concern for every person in the world right now—especially healthcare workers. Due to close contact with the virus, medical professionals must worry about answering questions like What happens if I contract COVID-19? Will I be unable to work? Do healthcare providers get paid during quarantine?
While we can't speak on behalf of other employers, you can trust that Host Healthcare has you covered during this difficult time. We always put your needs first, and now is no exception. Read on for everything you need to know about Host Healthcare's COVID-19 nurse quarantine pay policy.
Potential Exposure to COVID-19
Despite having the utmost safety measures in place, it's possible for Host Healthcare travelers to contract—or come in contact with—COVID-19. Although treatment of COVID 19 patients is common in many healthcare facilities, travel nurses should be cautious of contracting the virus through other ways. 
If a coworker or someone you live with has tested positive or begun to show symptoms of COVID-19, then you may be required to quarantine before returning to work. Common symptoms to look out for should include:
Fever

Shortness of breath

Dry cough

Loss of taste and smell

Head and body aches
How to Stay Safe While Working During COVID-19
The best way to avoid having to quarantine is by keeping yourself safe—both on and off the clock. Host Healthcare and the Center for Disease Control recommend these sanitary practices in order to prevent the spread of COVID-19:
Wash your hands frequently, for a minimum of 20 seconds

Sanitize hands, surfaces, and tools regularly (with at least 60% alcohol)

Avoid touching your face, nose, and mouth when out in public

Report any new symptoms to your employer

Stay home if you're feeling sick or following a potential exposure to COVID-19

Wear a mask when at work and in public

Get tested regularly if working in the medical field1
Doing your best to avoid COVID-19 is always recommended, but sometimes exposure can still occur. Fortunately, Host Healthcare has you covered if isolation is required.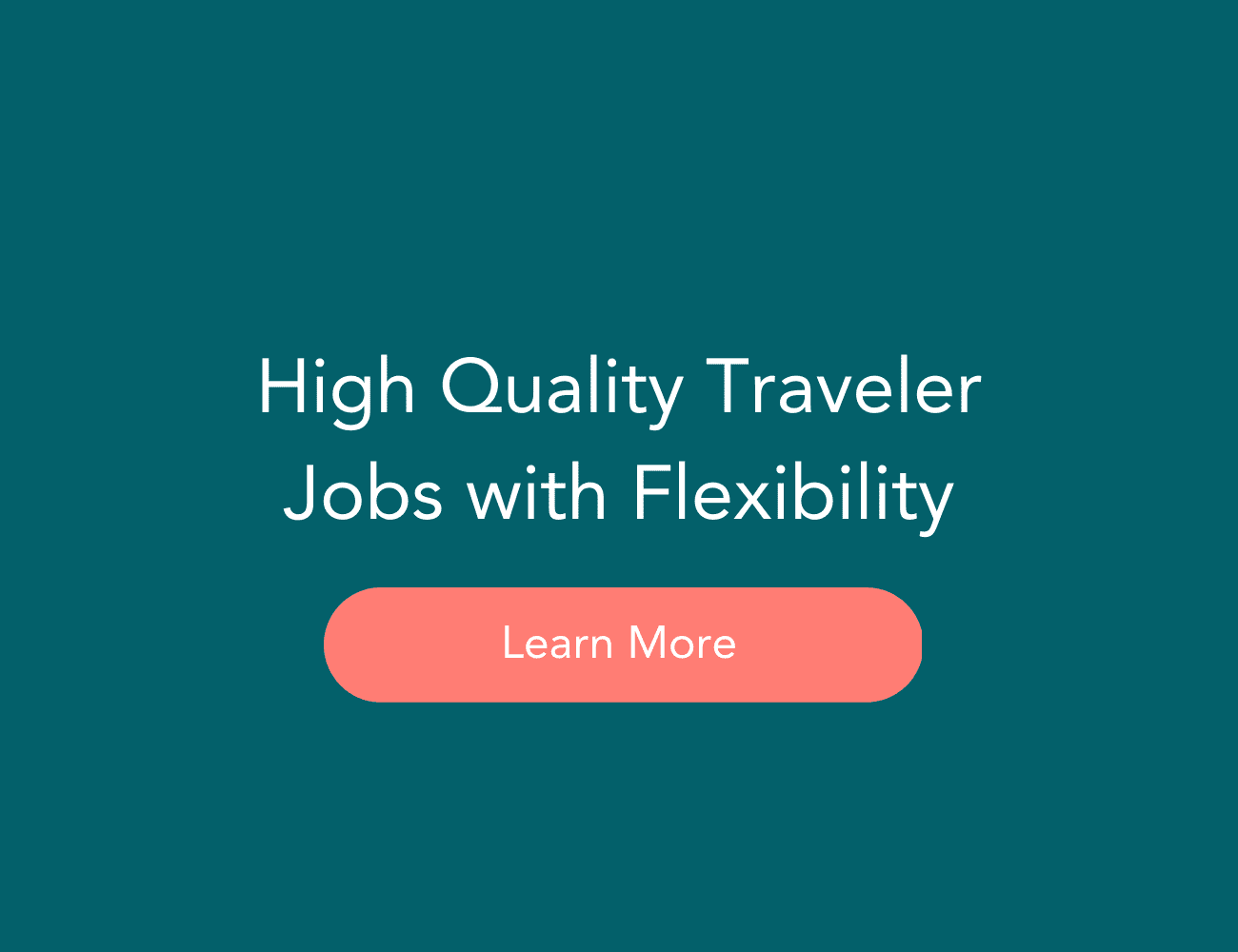 Getting Paid in Quarantine
Our team at Host Healthcare is committed to taking care of you, so you can take care of our communities. When working as a traveling heath care worker with Host Healthcare, you won't have to worry about missing a paycheck due to COVID-19 complications. Vaccinated or unvaccinated, if you are quarantined by the facility due to possible exposure to COVID-19 while at work, and you meet the conditions below, you will be covered with compensation of $1,400 per week moving forward:
The facility at which you are working is requesting that you be quarantined due to possible exposure to COVID-19 while at work.
You have tested positive for COVID-19 infection (and have test results documents available).
The bottom line is this: your well-being matters. We want to create a work environment that is safe, understanding, and trustworthy. Although paid sick leave may seem like a given, you may be surprised to learn how other providers are handling the subject of quarantine pay.
Laws Regarding Quarantine Pay
The unfortunate truth is that not all healthcare workers are being compensated for their quarantine periods. Federal laws have allowed various loopholes regarding quarantine pay, creating difficult conditions for healthcare workers. 
While it's true that government funding is being used to cover salaries for certain medical facilities, those with less than 500 employees do not qualify for this relief. Under the Families First Coronavirus Relief Act, employers are technically not required to pay sick leave for doctors and nurses quarantined.3
At Host Healthcare, our nurses and their well-being are our priority—which is why we take a completely different approach.

No matter what type of establishment you're working in, your paycheck will never be withheld for reasons related to COVID-19.
How Are Hospitals Protecting Their Employees From COVID-19?
In addition to personal safety measures, many medical facilities are implementing their own precautions against COVID-19. If you're concerned about your safety as a traveling healthcare provider, here's what you should know about working during the pandemic:
Screening

– Hospitals and other medical facilities have intensified their screening and Coronavirus testing procedures. Patients and employees alike are being closely monitored for signs of COVID-19, particularly respiratory symptoms and fever.

Separation

– Patients who have contracted COVID-19 are safely separated from the general hospital population to prevent an outbreak. Creating a degree of space between infected and non-infected patients allows social distancing measures to be properly followed.

Personal protection equipment – The latest personal protection equipment (PPE) is given to all healthcare providers when available. This includes masks, face shields, gloves, and disinfectants.4
When you work with Host Healthcare, you're protected no matter what. Whether you're ready to work or need some time to quarantine, we want to make sure you feel supported, safe, and valued.
What is the Host Healthcare COVID-19 Resource Center?
In addition to quarantine pay and safety measures, Host Healthcare is devoted to making life easier on our essential workers. With our COVID-19 Resource Center, employees can get free or discounted services from dozens of popular companies, including:
Food delivery (Doordash, UberEats, Sweetgreen)

Transportation (Delta Airlines, JetBlue, CitiBike)

Lodging (Air BnB, Hotels for Hope)

Clothing (The North Face, Crocs, Barco Uniforms)

Mental Health (Headspace, TalkSpace)

Child care (Care.com)
Deals and discounts are updated on a regular basis. Remember to check back frequently with our Resource Center page to see what new companies have joined the fight in supporting healthcare workers.5
How Does Travel Nursing Work Under COVID-19 Restrictions?
If you're interested in becoming a traveling healthcare professional, you may be feeling discouraged by the recent COVID-19 restrictions. Fortunately, we have all the answers you need to make this important career decision a bit easier:
Are There Any Domestic Travel Bans?
There are currently no restrictions barring people from traveling between states. Whether you're a certified healthcare worker or not, domestic travel within the United States is allowed for any reason. 
Do I Have to Quarantine After Traveling?
Although there are no travel bans, many states require a 10-14 day quarantine period upon arrival. Fortunately, traveling healthcare workers are exempt from these restrictions due to their classification as essential workers. This means travelers with Host Healthcare are free to take on their new assignments without fear of delays.
Other states require proof of a negative COVID-19 test in order to avoid quarantining. While healthcare workers are not subject to these restrictions, it's always a good idea to get tested frequently, especially when traveling between states.
What is Proof of Employment?
In order to avoid travel restrictions, healthcare workers should keep their proof of employment on hand. These important documents include:
License

Employment contract

Hospital ID badge8
Physical or digital copies of these documents can be used for entry into their new state, although it's always a good idea to check the specifics for your destination on the state's government website.
Why Travel Nurses Are Needed Right Now
With an ongoing pandemic, you may be wondering if travel nursing is necessary at the moment. Although traveling can pose additional risks, opportunities for travel nurses are still plentiful
Due to the mutations and variations of the virus, COVID 19 cases are popping up in all parts of the world. Even leading scientists have difficulty predicting where the next hot spot is going to be, making traveling healthcare workers more essential than ever. 
Currently, these specialties have the highest demand for traveling healthcare professional staff in the United States:
Intensive Care Unit

Progressive Care Unit

Telemetry 

Respiratory Unit

Surgery

X-Ray Specialists

Emergency Room nurses
COVID-19 is a serious, and rapidly changing virus. With such a widespread outbreak, it's important to have trained healthcare professionals who are ready to travel to the next city that needs them most.
Host Healthcare: Fighting COVID-19 One Day at a Time
Are you looking to bring your skills to new parts of the world? Host Healthcare can help.
Although the virus continues to fight, our healthcare travelers fight harder. Each day Host Healthcare employs talented, professional, and selfless workers who are helping to end the COVID 19 pandemic. If you want to join this noble cause, here's how you can help:
Apply to be a traveling nurse or travel therapy with Host Healthcare. If you're approved, you'll be matched with a travel nurse recruiter who can help you find new jobs around the world. From there, simply wait for your next assignment and prepare for your life to change. Thank you for your hard work, and continue that work today with Host Healthcare!
Sources:
Host Healthcare. COVID-19 Response: FAQs.

https://www.hosthealthcare.com/covid-faq/

 

 Waff. Employers Not Required to Give Doctors, Nurses COVID-19 Sick Pay.

https://www.waff.com/2020/11/24/employers-not-required-give-doctors-nurses-covid-sick-pay/

 
A truly comfortable travel healthcare experience
Get Started