If the freedom, challenge, and paycheck of travel nursing appeals to you, but you can't imagine leaving your home, local travel nursing jobs might be an attractive alternative. Travel nursing locally marries many of the benefits of out-of-state travel nursing with the perks of working and living in a community you already know and love.
Before you scrub in, let's take a closer look at the reality of local travel nursing, its advantages, and how to decide whether it's the right fit for your lifestyle.
Local Travel Nursing 101
Many nurses see their work as a calling, but the long hours and static wages can still lead to burnout and staff drop-off over time. 
To fill the gap, many hospitals turn to travel nurses, who work temporary contracts at hospitals as needed. Traveling nurses tend to make more than staff nurses—in some cases, the equivalent of a staff nurse's salary in only a few months.1
For some traveling nurses, the adventure of traveling across the country is part of what makes travel nursing so rewarding. But nurses who enjoy staying close to home may wonder, can you do travel nursing jobs locally?
The answer is yes. Though it might sound like an oxymoron, you can become a local travel nurse.
Local vs Standard Travel Nursing: Are There Different Requirements?
Local travel is a great option for clinicians who want to take advantage of the benefits of contract work without going too far from home. Though the requirements to become a local travel nurse may vary from agency to agency, at Host Healthcare, a local traveler is anyone whose permanent tax home is less than 50 miles from the facility they are taking an assignment at. As a local traveler, you are not eligible for untaxed stipends, which is one of the primary financial benefits of being a full traveler.
On the other hand, a standard travel assignment requires that the facility the traveler reports to is over 50 miles away from their permanent tax home. With this requirement, a traveler is duplicating their housing expenses, therefore they are eligible for weekly untaxed stipends. For local travel assignments, it's assumed that the traveler does not need to duplicate housing expenses since they aren't going as far from home. In this case, the local traveler would receive an hourly rate and may be able to apply for bonuses and student loan reimbursements as well depending on eligibility.
What to Expect as a Local Travel Nurse
So, what is local travel nursing? Like general travel nursing, local travel nurses receive short-term contracts to support hospitals in need of more nurses. However, with a local travel nursing job, you stay much closer to home. 
While placing geographic restrictions on your travel nursing plans can somewhat filter down the available job opportunities, it can also offer a host of benefits.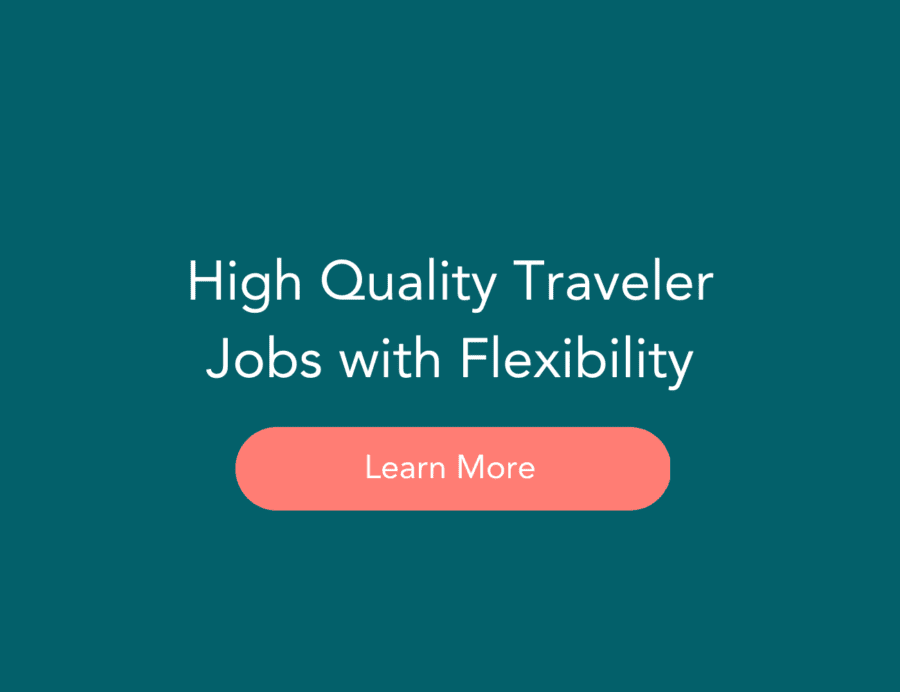 Benefits of Local Travel Nursing
Local travel nursing combines some of the best benefits of staff nursing and travel nursing and into one position. 
These benefits include:
Staying close to home – If you've finally found a house or apartment you love or built a network of close friends and family, you might feel reluctant to start over in a new city. That makes sense—in fact, one study found it can take 100 hours in someone's company before that person feels like a "real" friend.2

A local travel nursing job offers you career flexibility while letting you stay close to the home and community you've built. In addition,

travel nursing with pets

is much more feasible on a local scale.  

Increased family stability– One study found that frequent moves can negatively impact some children's ability to form high-quality relationships. When you're stressed about moving, it can also affect how much energy you have to devote to parenting.2

If you have children or an older family member in the area who depends on you, local travel nursing allows you to access the career benefits of travel nursing while also continuing to offer your family more stability.

Lower travel costs

– Compared to out-of-state travel nursing, local travel nursing has significantly lower travel costs, meaning more of your salary can go toward other financial priorities. 

Familiarity with the healthcare landscape

– As an RN in your area, you may already be familiar with many of the local healthcare institutions and the different communities they serve. Staying local with your travel nursing means you can start each job with a broader context and deeper understanding of the community. In turn, this could help you to better bond with colleagues and serve your patients.

Access to different workplaces

– Local travel nursing can let you try out different hospital work environments in your area. Whether you're hoping to make a permanent switch to travel nursing or test out potential future employers, local travel nursing can help give you a feel for what you want—and what you want to avoid—in your future workplaces.

Exploring work beyond your specialty area

– The floating schedules associated with travel nursing might mean you end up working outside your normal nursing specialty. This can prove beneficial for people looking to gain experience in other areas of their profession.

Increased pay – While the exact pay will fluctuate by region and employer, local travel nursing generally pays significantly more than staff nurse positions.1

If you're willing to learn quickly, embrace

flexibility in nursing

, and rise to the challenge of working in a new place, local travel nursing can prove a lucrative and rewarding option. 
If you think travel nursing locally might be for you, it's time for the next step: looking for travel nurse opportunities in your area. 
Explore Local Travel Nursing Options with Host Healthcare
At Host Healthcare, we match travel nurses with the healthcare providers that need them. Whether you're looking for an adventure on the other side of the country or an exciting professional opportunity in your own backyard, we aim to make the travel nursing process as smooth and comfortable as possible. If you are not sure if local travel or standard travel is right for you, our recruiters are here to help answer your questions and steer you in the best direction for your needs and preferences.
In addition to helping you land the travel nursing jobs you want, we provide premium employment benefits, like medical benefits that continue up to 30 days between travel assignments, COVID quarantine pay, and 401K matching. We also offer access to a highly responsive support team to help you navigate any challenges you encounter while settling into your new position.
If that sounds like a breath of fresh air in an industry that too often takes healthcare workers for granted, then consider applying to Host Healthcare. Your career as a local travel nurse could start today. 
Reviewed by:
Wendy Williams, BSN, RN, CCM
Nursing Specialty: Home Health/Long-Term Care, Pediatric Emergency, Case Management, Medically fragile special needs children and adults
I started my career as a pediatric emergency room nurse and floated to the pediatric floor, PICU, burn unit, and NICU. I then transitioned and spent most of my career in home health and long-term care as a Nursing Director and Case Manager for medically fragile, special needs children and adults. I am a Certified Developmental Disabilities Nurse (CDDN) and Certified Case Manager (CCM).
Sources: 
Hilgers, Lauren. "'Nurses Have Finally Learned What They're Worth'."

The New York Times

, The New York Times, 15 Feb. 2022, https://www.nytimes.com/2022/02/15/magazine/traveling-nurses.html. 

Stiefvater, Sarah. "Explained: The Psychological Effects of Moving Frequently on Adults and Kids (and How to Ease the Transition)."

PureWow

, PureWow, 2 Oct. 2019, https://www.purewow.com/wellness/psychological-effects-of-moving.
A truly comfortable travel healthcare experience
Get Started