This article was updated for accuracy and relevance on September 17th, 2020.
How much do nurses make on average and how much money can I make as a travel nurse? These are two of the top questions we hear. To help you understand everything about the travel RN salary, we created this travel nursing salary guide. If you are wondering what the average travel nurse salary is, you've come to the right place.
The first thing to know is that when you add up all benefits, allowances, and even reimbursements, you can make up to 20 – 30% more as a travel nurse than what the average annual salary may depict. In fact, many travel nurses with acute-care experience can earn over $100,000 per year when every stipend is included. If you are a registered nurse who is looking to take their nursing career to the next level, our medical staffing agency can help. With travel nursing assignments, professional nurses can work in new medical facilities, experience a diverse team of medical staff, and potentially have a higher annual salary. We will dive into several key factors that make up the travel nurse pay in this complete guide.  
1. Travel Nurse Salary Guide – How Much Do Travel Nurses Make?
As stated above, the travel nursing pay package offers a higher annual salary than that of a permanent staff nurse. One way to think about it is you can earn the same money during 9-months as a travel nurse as a permanent registered nurse earns during 12-months. According to the Bureau of Labor Statistics, the average salary for a nurse in 2017 was $70,000. However, most travel nurses can earn up to 6-figures. In addition, the average salary/hourly wage for a travel nurse continues to grow each year. This can be credited to the increasing demand for qualified travel nursing staff with an interest in a wide range of patient care. When determining the average annual salary, remember that in your travel nursing pay package, not only do you receive a taxable hourly wage, but also non-taxable stipends. This will give you a better indicator of your annual salary. At Host Healthcare, we have a unique business model that allows us to offer the highest travel nurse pay in the medical care industry. Interested? Let us know by filling out the form below so we can talk about how much more money you can earn working as a traveling nurse with Host Healthcare.
2. Travel Nursing Salary Guide – Where Can I Make The Most Money
Like most careers, you can earn more money for your travel assignment in certain states. According to the Bureau of Labor Statistics, the highest paying states for competitive nursing salaries are California, Texas, New York, Florida, and Pennsylvania. As a traveling nurse, you can certainly earn a lot of money in these states. However, due to variables like demand and skillset, you can earn high travel nursing salaries in every state.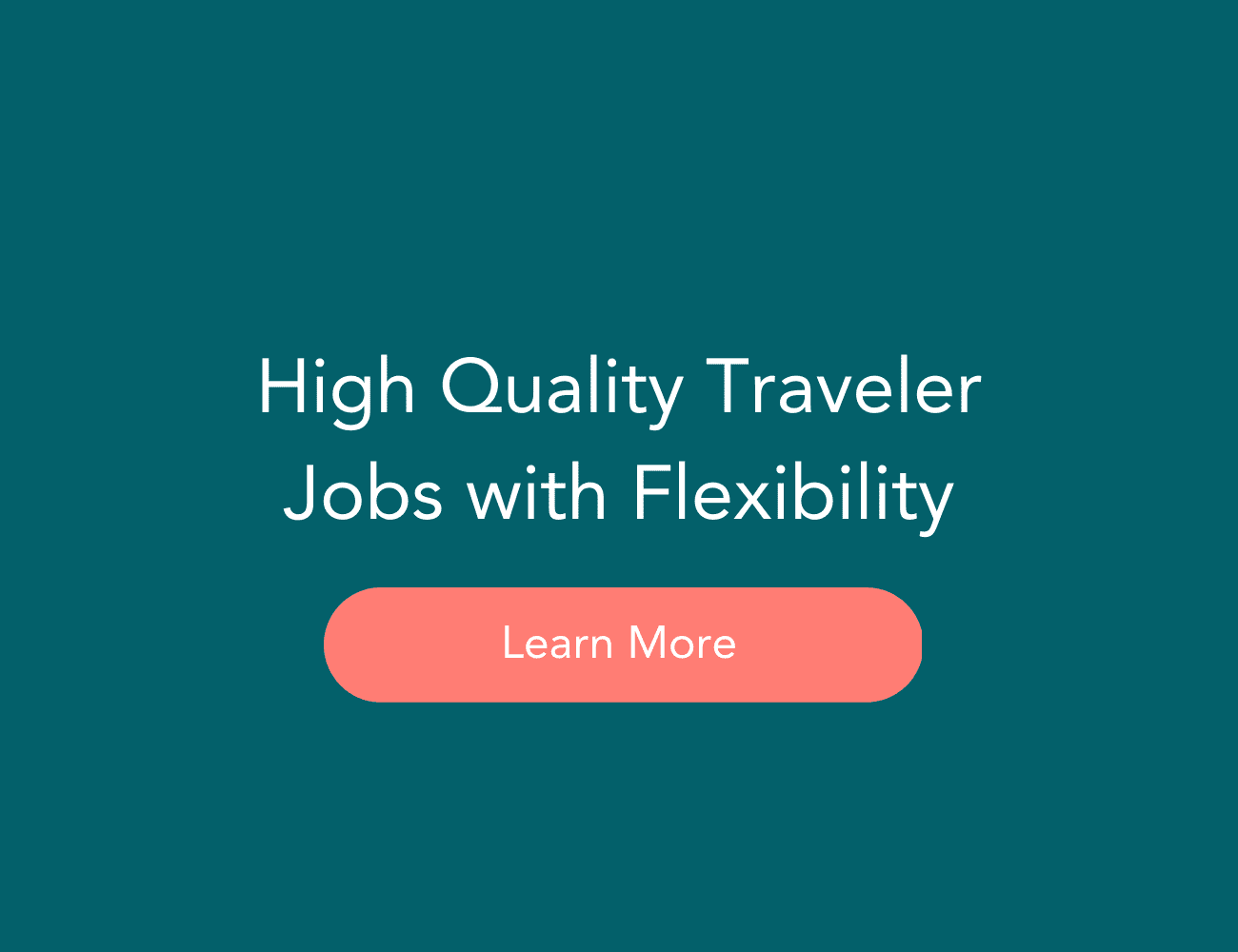 3. Travel Nursing Salary Guide – Tax-Free Reimbursements
Travel nursing staffing agencies offer all kinds of tax-free reimbursements. However, to qualify for this type of reimbursement you first must maintain a tax-home and then work a certain number of miles away from said tax-home. If you fail to qualify, then you will be taxed on this reimbursement. Once you have done the two above-mentioned steps, you are good to go; for now.
The third and final piece of receiving a tax-free reimbursement is you shouldn't work a travel nurse assignment in the same area more than 12 months during the same 24-month period. You need to go home for on average 3 months to your tax-home and maintain residency there. Find a job, continue to pay rent or mortgage, and other bills. After that, you can be back on the road as a travel nurse.
4. Travel Nursing Salary Guide – Travel Nurse Expenses
Although a travel nursing job offers a competitive pay package, it also comes with other important nursing benefits and potential for travel reimbursement. aJust like maintaining eligibility for a tax-free reimbursement, many travel nursing staffing agencies offer additional travel expenses for our nursing staff. The most common expenses include travel, a housing stipend, and assistance with your nursing license. At Host Healthcare, we offer several travel nurses expenses. We understand it can be expensive to move to a new city, find a place to live, or even get your nursing license. That is why we are proud to offer several benefits and cover many expenses that occur.
5. Travel Nursing Salary Guide – How To Make More Money As A Travel Nurse
As a travel nurse, there are several ways you can make more money. In addition to your hourly pay, there is an opportunity for additional bonuses and benefits. One common way you can earn more money is through a referral bonus, by acting as a recruiter to a staffing agency. Referral bonus programs are common at travel nursing agencies. At Host Healthcare, we have one of the most generous referral bonus programs in the healthcare staffing industry. Offering up to $2,000 per referral through our refer a traveler program. Want more? Going on right now we have our summer referral program where not only do you make money when you refer a travel nurse, but they too earn extra money.
Another popular way to receive higher pay is by seeking out specific travel nursing assignments that are in higher demand such as rapid response and crisis. The compensation package for patient care in an emergency department is generally more lucrative and returns a higher pay rate. These travel nursing assignments require you to arrive in a shorter amount of time, often within two weeks. The required flexibility for these assignments often results in your average salary being elevated, especially in some of the highest paying states.
Host Healthcare Travel Nurse
Being a travel nurse practitioner can be a very exciting and lucrative career. There are many factors to consider when determining if you would like to take a travel nursing job such as location, housing, and type of patient care you wish to work in. Travel nursing assignments allow you to make more money, grow your career, work in any city.
Host Healthcare offers an extensive list of travel nursing jobs. As the #1 ranked travel healthcare agency in the U.S., we can help you find the perfect assignment for your background. Apply to a job here and our team will reach out to you or call (844) 812-8094 and one of our friendly recruiters will be happy to help.
A truly comfortable travel healthcare experience
Get Started