With a growing belly and radiant glow, pregnancy can be a joyous time filled with excitement for your blossoming family. At Host Healthcare, we are here to support you and want you to be able to focus on the beauty of pregnancy. While you may be wondering if pregnancy will impact your job as a travel nurse, we are here to give you some helpful tips on how to navigate your pregnancy as a travel nurse.
Can You Still Travel While Pregnant?
Yes, you can certainly be a traveler while pregnant. In most cases, pregnant women—including nurses—continue working regularly throughout their pregnancy. With the right planning and the support of your staffing agency, you can easily continue your travel nursing career while pregnant.
Tips For Successfully Working As A Pregnant Travel Nurse
If you're expecting a baby or planning to start a family in the near future, follow these helpful tips to make travel nursing while pregnant a breeze.
#1 – Stay Comfortable
While the long shifts may not have been an issue before, you want to prepare for the fatigue, swelling, and nausea that may happen during pregnancy.
To ensure you stay comfortable, start prepping your days with the must-haves, including compression socks, nausea relief, supportive maternity undergarments, and plenty of water bottles to stay hydrated.
#2 – Keep Your Employer In The Loop
Notify your travel nursing agency and your hospital as soon as you can if you are pregnant in the middle of your travel assignment. If you're pregnant and currently looking for a new position, keep your travel nurse recruiter in the loop to help you find shorter length assignments or a location near the hospital where you plan to give birth.
#3 – Be Familiar With Your Benefit Coverage
With frequent testing and monitoring, maternity care can become expensive quickly. If possible, choose a travel nursing agency, such as Host Healthcare, that gives you access to health insurance, and become familiar with what is and isn't covered by the policy.
#4 – Stay Up To Date On Vaccines
Working day in and day out with sick patients means increased exposure to a slew of illnesses. While you may not think twice about contracting something in a normal work situation, getting sick can be more dangerous when you're expecting. Do everything you can to protect yourself and your unborn baby by staying up to date on immunizations.
#5 – Nourish Your Body
As you're well aware, being on your feet all day burns a lot of energy, especially for a pregnant person. As you're prepping for this new journey, pack your meals to ensure you have enough snacks, drinks, and nutrients throughout the day to replenish your body. Healthy snacks high in protein will help satisfy cravings and provide your baby with the essential vitamins they need to grow and thrive. For more healthy meal planning tips, be sure to check out our blog.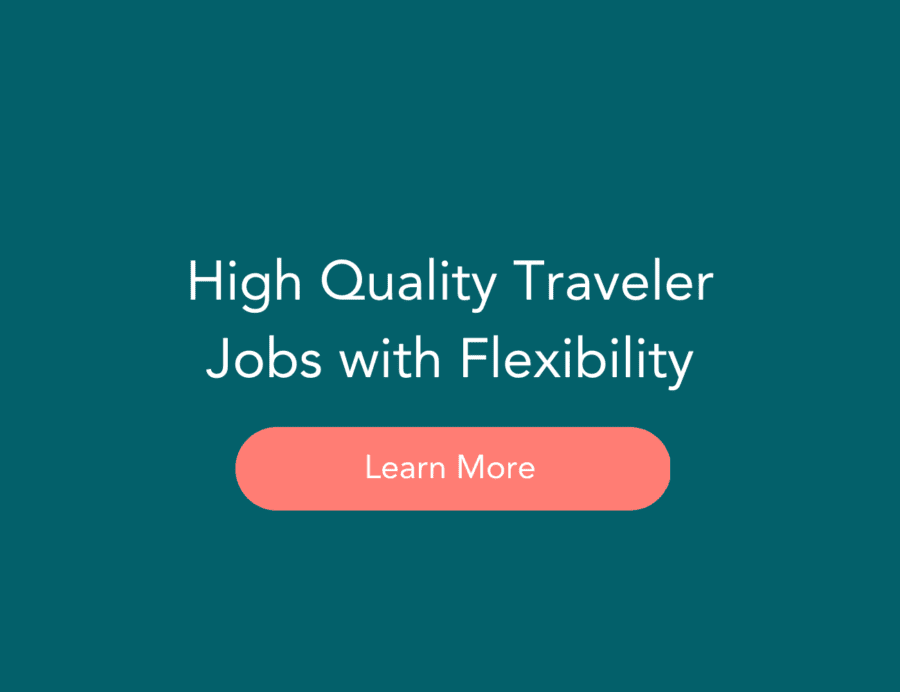 #6 – Maintain Regular Health Checkups
Nursing is a very physically demanding role, so it's important to keep up with regular OB-GYN checkups to ensure you can continue to work your shifts as normal. Your doctor will also be able to assess risk for pregnancy complications like high blood pressure, gestational diabetes, and blood clots. They'll recommend any adjustments to your workload or responsibilities as needed to keep you and your baby safe before taking on a new travel nursing job.
#7 – Avoid Occupational Hazards
Gloves, masks, and hand sanitizer were your best friends as a nurse. Now, they're your closest relatives as a pregnant travel nurse. Use extra caution and try to minimize your exposure to some of the more hazardous situations that arise throughout your shift, such as:1
Heavy lifting (including moving and turning patients)
Harsh cleaning products
Administering medicine
Patient aggression
Disease exposure
Radiation from medical imaging
With reasonable accommodations, you should be able to continue working throughout your pregnancy or through the end of your contract.
#8 – Know Your Limits
Pay attention to your body and its cues for when you need to take a breather. When you're pregnant, it's better to take a quick seat or sip when you need it than to push through and end up with unnecessary complications.
Be aware of your stress triggers to avoid unnecessary blood pressure spikes, and don't be afraid to ask coworkers for help with heavy lifting or if something is making you uncomfortable.
#9 – Plan Ahead
There are many moving parts to consider when expecting a baby and navigating your career. Planning for after the baby arrives is just as important as getting through the day-to-day hurdles of pregnancy.
Just as it is important to understand the protocol for calling in sick as a travel nurse, knowing when to submit your dates for maternity leave is a must. Make a plan for your maternity leave, and work with your recruiter to determine the amount of time you want between assignments. When you're ready to return to work, you'll need to map out a plan for childcare, breastfeeding, and pumping as well.
While it sounds like a lot, with the right travel nursing agency by your side, you can trust everything will be accommodated.
Work Safely Through Your Pregnancy with Host Healthcare
Being a pregnant travel nurse doesn't mean you need to give up the nursing job you love. With the right considerations and accommodations, you can continue working through your pregnancy.
Here at Host Healthcare, our staff is ready to provide the best support for our travelers. We help you navigate everything from pregnancy to housing, healthcare, and beyond with comfort and care.
Join our community today to find out why we're a top-rated travel healthcare company and find your next travel assignment today. Wherever you and your baby land, we'll be with you every step of the way.
Reviewed by:
Hannah Wilson, BSN, RN, CCRN
Nursing Specialty: M/SICU, PreOp
I began my career as a new graduate nurse in an M/SICU where I ended up working for 5 years, one year of which I was a Team Leader. In January of 2020, I took my first travel nursing position in a Burn ICU. After 13 weeks there, I spent the next 14 months in a couple of Medical/COVID ICUs in CA where I primarily cared for COVID patients. After 7 years in the ICU, I needed a change and took a permanent position in PreOp in September of 2021, which is where I currently work. Being a nurse have given me so many opportunities and has taught me more than I ever thought it could – I can't imagine doing anything else!
Sources:
International Journal of Nursing Studies. Nurses' experiences of working while pregnant: A qualitative descriptive study. https://www.sciencedirect.com/science/article/abs/pii/S002074892100239X
Healthcare. Nurses' Clinical Work Experience during Pregnancy. https://www.ncbi.nlm.nih.gov/pmc/articles/PMC7823590/
A truly comfortable travel healthcare experience
Get Started