Congratulations! You've got a lot to celebrate right now: you're fresh out of your nursing school graduation and ready to start building your career in the medical industry. You've heard your classmates talking, both before and after graduation, about working for the local healthcare conglomerate – you know, that one – or the big hospital across town, or the handful of nursing agencies in your county. You might be finding it difficult to muster up the same level of enthusiasm, despite your eagerness to put that new degree to use.
You've got the grades and the expertise to follow that pack, sure, but what about trying something different, maybe something beyond your zip code? As a new grade travel nurse, you'd have the opportunity to stretch your proverbial wings and get a glimpse of how different facilities handle their medical care. Becoming a traveling nurse can also be great for a new grad nursing resume. Not to mention, if you choose to take on a travel nursing job in another state, you can include your multi-state nursing license on your resume as well. In fact, if it's done right, travel nursing can offer a career's worth of varied experiences in only a few short years, usually in conjunction with extremely competitive pay. It doesn't matter if you graduated only a few weeks ago or you have years of experience in your field: travel nursing is an option open to any RN qualified for a given position.
New Grad Travel Nursing Guidelines: What Every New Grad Should Know
Want to know where to start your journey as a TOA, both literally and figuratively? Here are 10 things that every new grad travel nurse should know before they start looking for healthcare traveler jobs:
1) Can A New Grad Be A Travel Nurse? Absolutely. 
Your pool of travel nursing options may be limited as a new graduate, but it's still there to explore. It wasn't long ago that the idea of a recent graduate pursuing this career option was a pipe dream, but times have changed. As staffing demands continue skyward and available local labor pools dry up, medical facilities are turning to travel nursing assignments for help. That means that the high barriers to the pursuit – usually a year or more of experience – have eroded somewhat, paving the way for new graduates. While the majority of travel nursing positions will still generally look for applicants with nursing experience, being fresh in the field is no longer the deal-breaker it once was. In fact, there are travel nurse agencies that hire new grads, so look within your professional contacts to network with such agencies (e.g., Social Media such as LinkedIn and other digital platforms and job forums specifically aimed at the healthcare industry) to boost your employment options.
2) How Much Experience Do You Need For Travel Nursing? Less Than You Think.
You also don't necessarily have to do all the legwork to find opportunities. Recruiters and placement agencies are constantly looking for qualified applicants for travel hospital jobs and nursing positions. Take advantage of their experience and know-how and get your name in the running for a travel nursing career! At Host Healthcare we are always willing to hire new grads and we will help match your strengths and desired travel scheduling with clinics, hospitals, and other medical facilities looking to fill temporary positions. Get in touch with as many as you can and follow their process for getting your name, certifications, and hiring information in their database. While this step will help a great deal in terms of finding opportunities, be sure to keep your own eyes and ears open too, and proactively ask the agency at periodic intervals if any new requests have come through.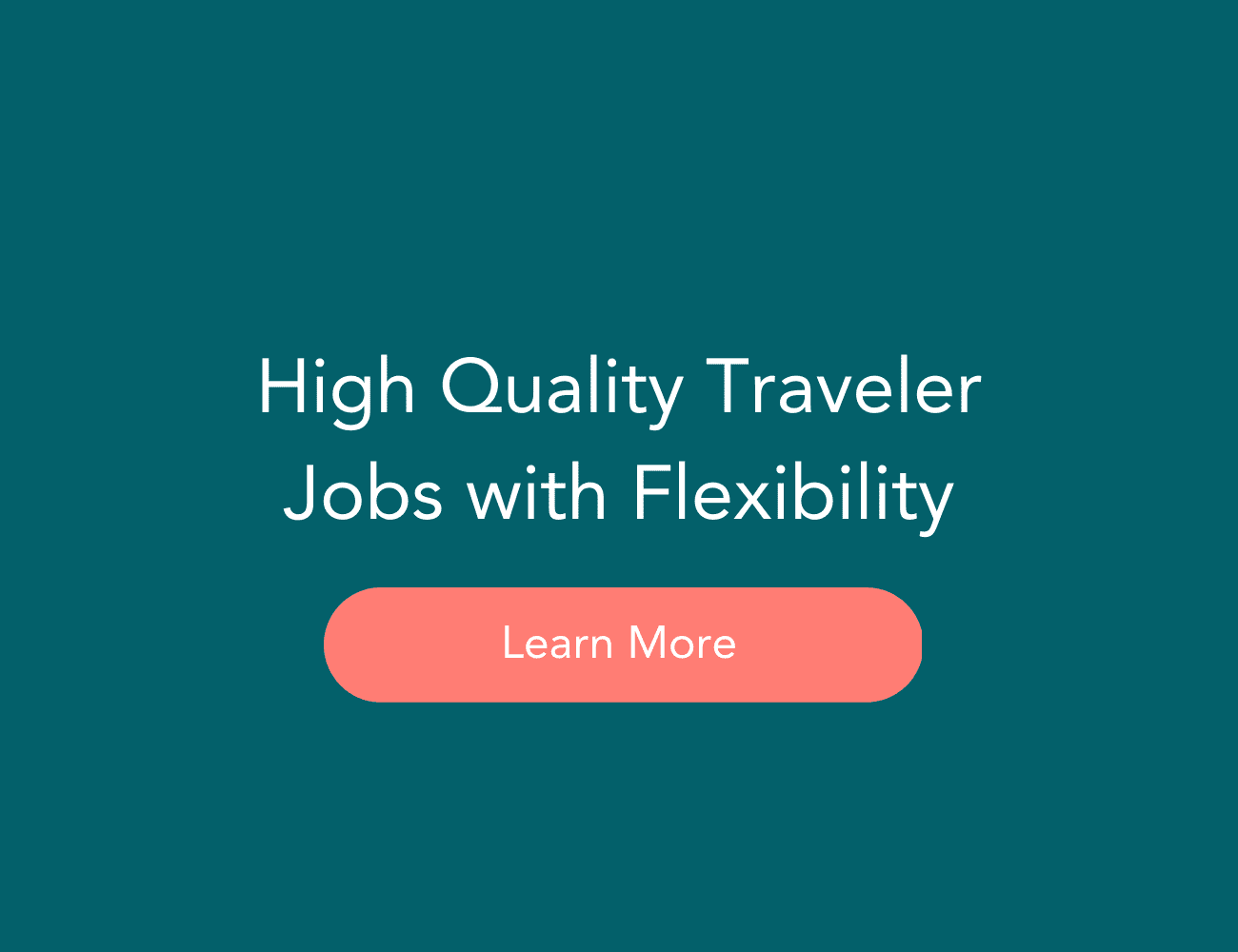 3) What Is The Best Travel Nursing Agency? The One That Cares About You.
A travel nursing assignment requires a lot of trust on your part: you're heading to an unfamiliar area and facility to do incredibly important work. With that in mind, make sure your partner agency is legitimate and "in your corner" – features such as accreditation, praise and awards from nationally-known publications, and transparent job listings are all excellent indicators you're working with a high-quality travel nursing agency that's likely to deliver great results.
4) Flexibility: The Best Way to Maximize Earnings As A Travel Nurse
If pay is your focus, rather than experience and travel, you'll want to keep your options wide open. That means being willing to work any shift a given assignment calls for, being willing to travel to less popular locales, and keeping your affairs in order to enable a fast turnaround to travel if a position opens up. For particularly high-paying assignments, taking too long to find a dog sitter or sort your licensing paperwork may mean losing out to another, more well-prepared applicant. While the process of making sure you're ready to go at a moment's notice can feel like a job itself, it will more than pay off the first time you snag an enviable assignment because you're well-prepped.
5) Keep Your Licensing / Certification Documents Organized & Up-To-Date
To reiterate, many travel nursing positions are time-sensitive for obvious reasons, and that means the early bird gets the proverbial worm. After graduation, take the time to gather and store all of your nursing licensure and certifications, and scan any relevant documents for easy emailing to recruiters and facilities. Keeping scans of these documents on, for example, a secure flash drive on your keyring will help you remain prepared to apply to travel nursing openings anytime, anywhere. 
6) What States Pay The Most For Travel Nurses?
While geographical nursing needs and position openings will, by nature, shift as medical crises do, the states of New York, California, Massachusetts, Texas, and Washington have all consistently offered the highest travel nurse pay in recent history. On the opposite side of the coin, don't expect to cash in on positions in southern states: because the cost of living is comparatively lower, so are the wages offered.
Provided that you live in one of the 25 states that are part of the NLC agreement, going through the work of obtaining your NLC will allow you to apply to out-of-state travel nursing assignments with ease. It's also a significant and impressive addition to your resume, and a great way to start your nursing career on the right foot after graduation. 
7) Focus On A Nursing Niche To Keep Potential Positions Flowing
While nurses in general are in high demand across the country, as well as outside of it, a niche can help you stand out and land a position sooner. Market yourself and hone your skills in the area(s) that appeal to you and resonate with your skills in order to strengthen your applications. Labor and delivery nurses, for example, have a much easier time finding a temporary home at a facility over more generalized nursing applicants. Additionally, in 2020, infectious disease specialists and respiratory-focused RNs are highly sought after for COVID-19 patient care, Assignments in hotspots working as a travel nurse in New York City particularly lucrative during the pandemic. This is partly due to the fact that normal staff volumes simply aren't adequate for dealing with the huge influx of patients during this time of medical crisis.
8) It's Possible To Work As A Travel Nurse With A Family 
Obviously, some significant planning and discussion will be necessary before bringing a spouse and children on the road, but it's both possible and feasible to bring family on travel nursing assignments. Serving as a traveling nurse with a family is a big commitment but by discussing with your spouse and children ahead of time, you can decide if taking time to travel and practice patient care is a good fit for you. A new grad travel nurse in this scenario may opt to take housing stipends rather than ready-made living arrangements to find enough space for their family. They might also spring for a portable living option, such as a travel trailer or motorhome, and use the stipend on other living expenses.
And in that vein, if you haven't looked into travel nursing as an option because you're concerned about expenses, good news: they're usually paid by your hiring facility. That means the cost associated with getting you from A to B as well as housing – typically a one-bedroom or studio apartment – once you arrive. Your compensation package as a travel nurse will most likely be an aggregate of several components, including an hourly rate, reimbursement for travel, bonuses based on facility, overtime, shift differentials, and more. 
9) It's A Great Way To Make Connections In The Field & Network Organically
Sure, that stint you're planning on working in a Midwest hospital may be a travel nursing assignment now, but make the right connections with healthcare professionals and it can become a permanent option later. Collect business cards, names, and social media connections at each assignment and you'll have an exceptionally impressive digital "rolodex" in no time. This can work the other way, as well. If you find yourself putting down roots and an old travel colleague puts out feelers for relocation, you're in a great place to make a recommendation. You may even be in a position to collect a referral bonus from your facility!
10) It's One Of The Best Ways For New Nursing Grads To Explore Career Paths 
Rather than being "locked in" to a position at a local hospital or clinic, travel nursing allows you the freedom to explore a nearly endless variety of specialties, patient care methodologies, and even geographic living options. If you're a new RN and unsure of which specific career path you'd like to pursue, this exposure is a great way to earn a very good living while making up your mind. Especially if you are a recently graduated nursing student, a travel job with more fluidity in location can help you identify your future goals and plans. If a particular assignment ends up being more challenging than expected, you don't need to spend years in the position or risk gaps in your resume – the travel nursing assignment simply ends and you're free to pursue your next opportunity. 
Looking Ahead: What To Expect In Your Traveling Nurse Career
A new grad travel nurse has an unprecedented amount of freedom, growth, and exploration at their fingertips – so don't feel that you're restricted to applying to local jobs alone. While it isn't a career path that's well-suited to every new RN, if you have minimal local responsibilities and want to build your career, it's a great path to do so. So if you're ready for adventure and excellent income, partner with Host Healthcare to increase your available opportunities, keep your licensing and certifications up to date, and enjoy your new, exciting life as a travel nurse!
Sources Cited
:
A truly comfortable travel healthcare experience
Get Started