In the high-pressure, high-stakes world of healthcare, skipping a day of work can seem like an impossible decision. What happens when you're not on-call and your team is down a member? Don't the patients who are in your care need your support? 
For many nurses, calling in sick is the last priority when they feel the congestion take root and the fever starts to burn. It's understandable—nursing is a demanding field, and the individuals who walk this route are strong-willed and determined. 
But knowing when you're too sick to work is critical for the longevity of your well-being, as well as your team's health and the hospital at large.
It may seem tricky as a traveler, but what's the proper way of calling in sick as a travel nurse?
First, Understand When to Stay Home
It's not uncommon that healthcare workers will often try to "power through" their illness and continue to work when sick. According to a recent study performed by the Society for Healthcare Epidemiology of America, a surprising 95% of the healthcare workers reported working while having respiratory virus symptoms.1
As a travel nurse, you play an integral part in ensuring hospitals are properly staffed and patients are taken care of. However, much like an oxygen mask on airplanes, by taking care of yourself first, you are better equipped to support others—that includes your team and your patient load.
So, when exactly should travel nurses call in sick?
According to CDC guidelines, should a fever occur, you must stay home until 24 hours after it has subsided.2 If you have debilitating symptoms like vomiting and diarrhea, you should call in and reassess once symptoms have passed. 
For minor illness symptoms, there's an element of proper judgment to consider. If you're working with medically fragile groups like in a NICU or cancer ward, you'll want to take extra precautions to avoid spreading any illness to your patients.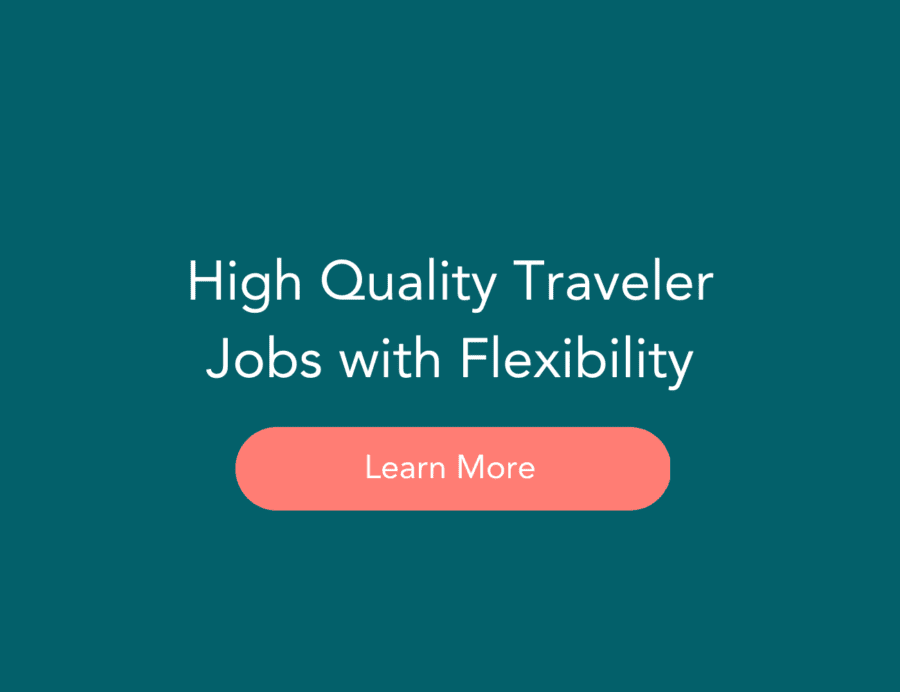 Steps to Take When Calling In Sick
So, can travel nurses call in sick? Absolutely. As part of your orientation, make sure to inquire about the protocol for calling in sick as it may vary by facility. If you decide your illness warrants a day away from patients and coworkers, here is the standard protocol: 
Notify your hospital

– Let your work know about your situation immediately after contacting your travel nurse agency to ensure they have enough time to cover for you. Try to assess your health situation to allow them to predict your outage—whether it's going to be a couple days or a week or more. 

Contact your staffing agency

– Call your travel nursing agency or speak to your

travel nurse recruiter

as soon as you know you'll be missing a shift. They're familiar with your contract and will be able to provide guidance on the best way to navigate your illness and absence. 

Determine scheduling and pay adjustments

– Keeping in close contact with your staffing agency will ensure you have everything covered throughout your illness. Depending on your contract type, you may need to pick up an extra shift to realign your hours.
Travel Nurses and Paid Sick Time
As a contractor, you may not be entitled to paid sick time from your employer. Check with your recruiter to determine the extent of your benefits and coverage. If you don't receive sick pay benefits through your position, some states have policies that will allow you to accrue and use sick time even in a contractor position. 
Hospital and Agency Policies
Nobody anticipates an illness to prevent them from fulfilling their contract, but most organizations are aware of the possibility and are prepared policy-wise for when the situation arises. By understanding your hospital's and agency's policies now, as well as creating a plan for when the fever comes, you'll be able to stay ahead of the situation and navigate your sickness with relative ease. 
Insurance Coverage
It's easy to assume, but do travel nurses get medical benefits? The truth is that it depends on your specific travel nursing agency. Just because you're working in a healthcare setting doesn't mean you gain access to a doctor whenever you need one. Make sure you have health coverage in place. 
Many staffing agencies offer generous health coverage plans, so if you do need to take a trip to urgent care or need a course of antibiotics, it won't break the bank. 
Find a Local Healthcare Facility
The exciting part of travel nursing is that it takes you all over the country. But this also means you aren't always near your primary care physician. When you start a new travel assignment, familiarize yourself with options in the area for check-ups and urgent care so that if you do get hit with a sudden sickness, you won't be scrambling to find an in-network provider. 
Stay Healthy and Informed While Travel Nursing with Host Healthcare
Whether it's an unexpected flu or questions about pay and benefits, it helps to have a friendly ear to listen and review options. Here at Host Healthcare, our recruiters and clinical team are available to assist our travelers every step of the way. And when you work with us, you have access to health insurance from day one, ensuring you're never caught by surprise—even by the unexpected. 
Ready to start your next travel nursing adventure? Join our community today. 
Reviewed by:
Hannah Wilson, BSN, RN, CCRN
Nursing Specialty: M/SICU, PreOp
I began my career as a new graduate nurse in an M/SICU where I ended up working for 5 years, one year of which I was a Team Leader. In January of 2020, I took my first travel nursing position in a Burn ICU. After 13 weeks there, I spent the next 14 months in a couple of Medical/COVID ICUs in CA where I primarily cared for COVID patients. After 7 years in the ICU, I needed a change and took a permanent position in PreOp in September of 2021, which is where I currently work. Being a nurse have given me so many opportunities and has taught me more than I ever thought it could – I can't imagine doing anything else!
Sources: 
A truly comfortable travel healthcare experience
Get Started