Curious about the typical day of a nurse on assignment? The fact is a typical day as a travel nurse is similar to a perm nurse. And as a nurse, you know that there isn't really a "typical day." You're always on the go working anywhere from six to twelve-hour shifts depending on the healthcare facility that you work in. That being said, let's dive into a day in the life of a travel nurse and what their typical nurse schedule looks like. We will dive into what your first day might be like as a travel nurse, what it takes to become a travel nurse, as well as a general job description of a travel RN.
What Does a Travel Nurse do on a Typical Day?
The first day on your travel nurse assignment will consist of your orientation. First-day orientation varies from each healthcare facility and nursing profession (ER nurse, pediatric nurse, ICU nurse, etc). Every hospital has different protocols so it's important you pay attention to what you learn during orientation to properly acclimate yourself to new surroundings and staff. Absorbing what you learn during orientation quickly is important for every travel nurse to ensure you have a positive travel assignment.
After the conclusion of orientation, you will spend some one-on-one time with someone, usually your nurse manager, learning more about important logistics and systems. This is where you want to make sure you have all your questions answered so you can safely and properly do your job with each patient. 
Once training is complete, qualified nurses will get their schedule and begin working. Your schedule as a travel nurse is similar to that of a perm nurse. You will typically work anywhere between 3-4 days of mostly 12-hour shifts. The typical schedule is made that way to help avoid any nurse burnout. While the advantage of travel nursing is being able to choose your travel assignment based on the type of schedule, the fact is that schedules depend on need so it's possible your schedule could change periodically. Make sure you have looked into housing options so you have a cozy place to relax after long days.
What Do Travel Nurses Do
Nurses, no matter travel or perm, have a lot of critical responsibilities. While there are different types of nursing specialties, the core duties for all nurses are the same. They consist of patient care, communicating with doctors, building a patient and nurse relationship, administering medicine and checking vital signs.
On a typical day as a travel nurse, you might do things such as conduct physical exams to assess a patient's condition, listen to patients and care for their needs, provide counseling to patients, and coordinate with healthcare providers. You will do all this while staying current on new advances with health care options, medications, and treatment plans.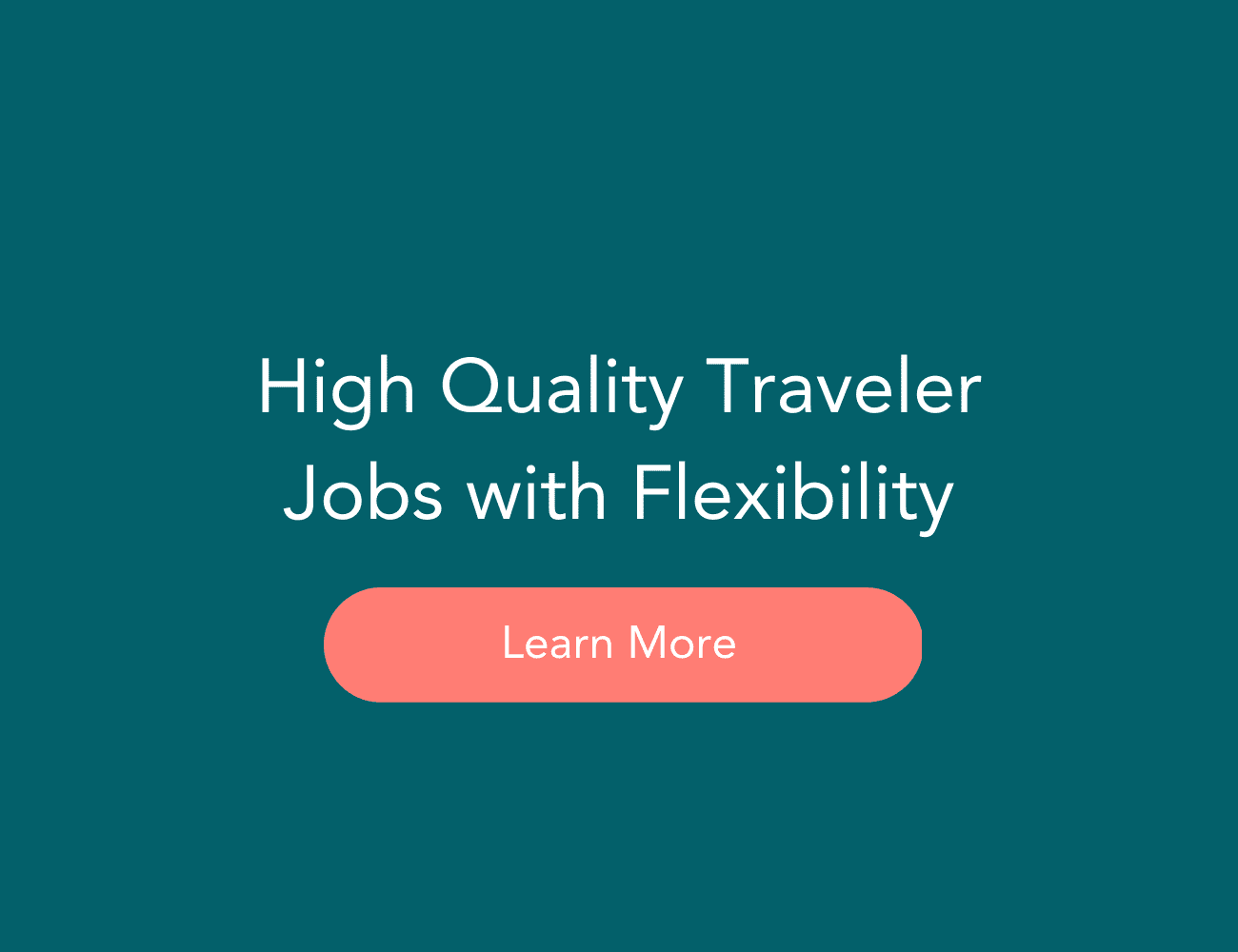 Travel Nurse Job Description
So, you're interested in becoming a traveling nurse? Great! While a lot of the same functions and responsibilities remain the same between a permanent nurse and a travel nurse, there are so many benefits of travel nursing. In order to become a travel nurse, you must follow the same guidelines for all qualified nurses. Follow these guidelines and complete all of your requirements and you will begin your nursing career in no time.
What is the job description of a travel nurse? First, you must attend a nursing school and get your degree. Once your associate's degree or bachelor's degree in nursing has been obtained, your next step is to pass the NCLEX-RN exam. From there, a travel nurse will need at least one year of experience working in a hospital setting in the specialty you wish to practice. But remember, how long a travel nurse can stay in one location may vary based on the assignment.
Now What?
As soon as you are eligible to become a travel nurse and ready to start traveling, the first thing you want to do is speak with a few travel nurse agencies. It's certainly okay to speak with a few agencies and see what nursing jobs are out there. However, it's important that as soon as you have accepted an offer with an agency, that you communicate that to the other agency. It looks bad when you are submitted to the same job by multiple nursing agencies.
We hope that when that time comes, you will consider working with Host. We are here to make your experience as a traveling nurse as wonderful as possible. The Host experience is why 92% of our travelers would travel with Host again.
About Host Healthcare
Host Healthcare is an award-winning healthcare staffing company focusing on travel nurse and travel allied. Our purpose is to make Host Healthcare a place with the highest employee engagement score in San Diego. A place where people are passionate about what they do and who they do it with. Our mission is to help our employees and traveling healthcare professionals live better. If you are a skilled nurse looking for unique and rewarding job opportunities, contact a recruiter from Host Healthcare today.
Host Healthcare Travel Nurse
Host Healthcare is a travel nurse staffing agency that offers an extensive list of travel hospital jobs openings. Call a recruiter from our travel nurse agency at (800) 585-1299. We are here to help you to get started and find the best travel nursing opportunity for you.
A truly comfortable travel healthcare experience
Get Started